Spa Girls - Lost Pines
Can elegance and exercise co-exist? At purpose. Race Events we passionately believe they can. The dynamic Spa Girl Tri will challenge you to push yourself while we're there to pamper you at the finish. So be bold, indulge and let the racing, rejuvenating and relaxing begin.
Here's just a few of your racing perks: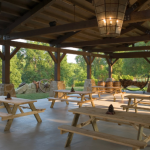 Custom Female Tech Shirt/Sweet Race Bib
Special Feminine swag bag/FREE Race Photos
Unique & cool finisher medal
Yummy Post-Race Food and Relaxation in their inviting LBJ Pavilion next to the Colorado River, including Mimosas, music, and shopping
Race Distances/Description:
300 meter swim: Your race starts with a gorgeous dip in the refreshing Crooked River lazy river as you navigate the scenic swim loop sans the swim jets.
10 MILE BIKE: You will carefully exit the swim with **NO RUNNING** until you exit the Pool Area and head over to Transition to hop on your bike for a fun 10 mile ride through the resort out to some beautiful scenic roads outside the resort. Nothing to hilly ladies, we're picking the route with minimal rolling hills. It could be a lot worse if we went out the main resort road but we're on the back roads. Course is an open course so keep an eye out for cars for yourself and let your other SPA GIRL ladies know as well with a WHOOP!! and "car back"! Thanks.
2 MILE RUN: Next up, end your race with a tranquil run through the intimate, relaxing lush grounds of the resort via the golf course to a fabulous finish on their grand event lawn overlooking the Colorado River.